PAX Aus 206 - Free Web Demo
2015 Indie Showcase Winner, Armed with Wings Rearmed returns to PAX Aus! Survival Demo Available!



Lightning strikes twice! The electrifying Indie Showcase winner Armed with Wings Rearmed returns to Pax Australia in 2016.

Armed with Wings Rearmed is a 2D Action Platformer with a feathery twist - play as both a Samurai Warrior and his companion Eagle! Explore the dilapidated wasteland of Black Mist, strike down powerful foes and deliver justice to the tyrant King.

---
Sun-Studios has released a
Free Browser Demo: Rearmed Trials
, is now available to play on
Newgrounds.com
. Gamers will be soaring to new heights as they take up the sword against the Imperial horde in a battle for survival!
Sun-Studios will also be hosting a Prized Elimination Tournament on the day where players will battle it out in Multiplayer VS until a winner emerges. The winner will walk away with a Special Armed with Wings Package, so be sure to stop by the PAX Rising Booth for your Armed with Wings experience!
Armed with Wings Rearmed is in active development on Steam Early Access and will transition to Full Release early 2017.
Play Rearmed Trials on Newgrounds.com
Armed with Wings Rearmed Store Page
---
Have you heard of Blockpocalypse? The 4 Player Party Apocalypse?

Waaaay back in January 2015, I participated in the Global Game Jam with the fine folks at Dime Studios (a fine games company of which I am the lead artist :0) Our gamejam entry for 2015 was a fun little party game called "Ablockalypse". Seasons later and after much further development, Blockpocalypse is now available on Steam Early Access!

Get on Steam: http://store.steampowered.com/app/433660
Check out the trailer:



---
Do you like Escape the Room? Do you like Adventure games? Do you like pretty graphics? Daniel Sun recommends newly released 'The Eyes of Ara' on Steam!




I discovered this game during my time in Adelade, South Australia over the weekend of AvCon Cosplay Convention. Developer 100 Stones Interactive is a one man game studio, just like me! His game has just launched onto Steam, and I'd like to plug the game here on Sun-Studios for all to see - because it's amazing.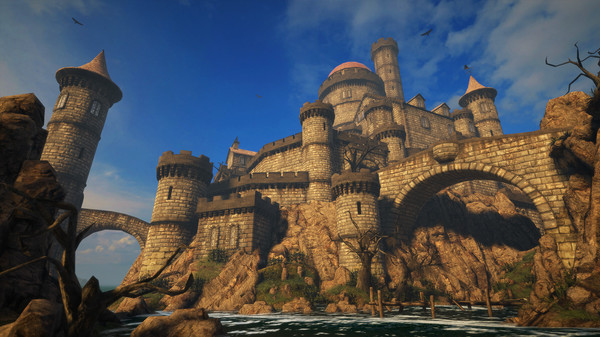 It's like Escape the Room meets a Point 'n Click Adventure. The game is ambient, mysterious and has a hint of spook. Did I mention the visuals are outstanding?

Go checkout The Eyes of Ara on Steam!
---