For awhile now, I've been occasionally browsing through posts on this forum and comments on AwW's website and facebook page, where I've seen a handful of people voice their opinions about the "newer" AwW artwork (time period from Armed with Wings 3 up until now), saying that the more "detailed" artwork has taken too big of a step away from the original or "classic" Armed with Wings feel. This hasn't really been open to debate much before up until recently, when D-Sun posted on Facebook revealing that he's open to a discussion about this:
I was actually pretty surprised when I read this. I knew D-Sun was open to constructive criticism, but I didn't think he'd be
this
open to it. Major props to him
.
Before I go any farther, I'll make clear that I am on the "classic" side of the argument, and passionately so

. That being said, I am going to try my best to defend the group/cult of us who have been silently watching from side lines, hoping for the return of an art style similar to that of the original.
But first, let me make this clear now: to this post and myself as well,
Detail =

ANYTHING

that is

not

pitch-black/a (pure) silhouette
Background Story
A few years ago now, I stumbled across the great, one-of-a-kind, Armed with Wings series which, at that point, only consisted of AwW and AwW 2. I actually began my journey with AwW 2 which, of course, had been amazing the first time playing through it: great soundtracks, solid character animation, design, and movement, powerful blows you could literally feel when landed, and all of that combined with a great story illustrated well, with a mind-blowingly fantastic and surprising ending. AwW 2 was not a game. It was
art
.
After (finally) having beaten him in the end in AwW 2, AwW instantly became my favorite character(and still is today) after his huge powerful god/angel reveal. I then went on to play the first AwW. I was so excited when I realized the game had you playing as Armed with Wings himself
! After painfully and tiresomely beating the Stage 6 boss and Vandheer, I had played the two games a few more times each, and then abstained from both for a good amount of time. However, I still never forgot how great and unique these games were to any other.
One day, a couple years later or so, I remember having played two extremely fun flash games sometime ago. I somehow remembered that they were called Armed with Wings and went on to Armor Games to replay both. By this time, all 5 of the current AwW flash games had been created and published. I was really excited to find out that 3 other whole new Armed with Wings (related) titles had come since the last time D-Sun had bestowed his blessing of joy through AwW 1 and AwW 2 on not only me, but on all other citizens of the internet.
I replayed through the first two games, then Red Moon, and finally made my way to Armed with Wings 3. The first thing I noticed had been the loading screen and how it sure looked "different" from that of any of the previous games, but it was kind of cool at the same time, so I didn't mind. I got to the menu, which really looked different compared to the three previous games, but still, it was cool, and so I went along with it. I began a new game and beheld in awe the re-mastered culminating scene of AwW 2. That was great. Next, I
was
Armed with Wings in corpreal-form(every AwW fan's dream come true, even if it was just for taking a few steps forward). I didn't even notice the extra attention to character detail at the time because I was distracted by the beautiful landscape and still getting over the excitement of the previous cut-scene. The next cut-scene was just as, if not, even more spectacular than the first. AwW 3 was off to a phenomenal start, surpassing the experience of the ending reveal and scene of AwW 2. Unfortunately, this was the height of my enjoyment off AwW 3's story.
Needless to say, when the camera panned on Leo for the first time, I was a bit... "confused" about what happend to the Armed with Wings I knew and enjoyed as I progressed further and further through AwW 3, for more reasons than just the added detail to characters and cut-scenes. I kind of even felt
betrayed
even(and I mean that in the nicest was possible) that the treasure I knew as Armed with Wings was turning into something else almost entirely. I think the highlighted part of this comment pulled from the AwW website by a fan describes it the best:
With that aside, we can get into the actual
specific reasons
why I believe less detail adds more depth to AwW:
"That's Not How I Pictured It!"
I start off with this because almost everything else below ties into it in some way or another. In my opinion, this is
the
strongest argument against use of excessive detail in AwW. In fact, this is the only argument I would use if I could only use one.
Most people who read a book and then watch the film version of that book will more than likely say something like "the book was (a lot) better". One of the reasons why that is is because,
"Once a filmmaker decides upon settings and

characters

, we're

limited

to seeing those

characters

and settings through their eyes. However, 500 different readers of the same book

may have 500 different ideas of a character's appearance
. And
if an actor doesn't measure up to what you imagined

when reading the book,

there's some disappointment

"
. The same principle, while not being the exact same circumstance, can definitely be applied to Armed with Wings, being how the silhouette appearance of the characters leaves a lot of room for the imagination.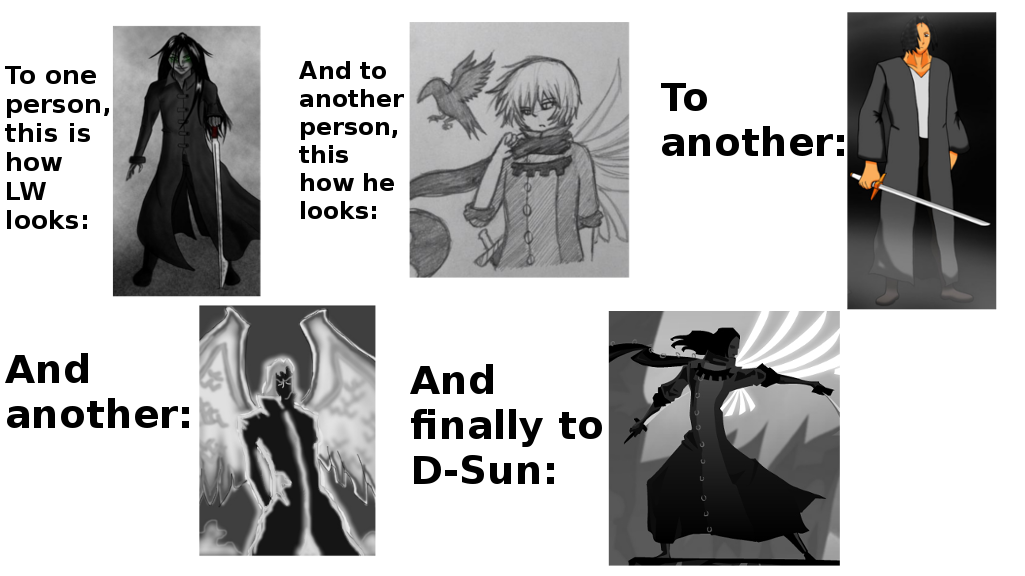 Cut-Scenes:
Cut-scenes are where the "if an actor doesn't measure up to what you imagined when reading the book, there's some disappointment" statement seems to apply the strongest in the newer AwW. Once again, before I go any further, I want to make it very clear that I
do not
think any of the more detailed content(cut-scene or outside-of-game artwork) is 'bad' or poorly illustrated. In fact, I really do like some of the more detailed cut-scenes and artwork, like I pointed out in the the backstory section; even my profile picture(at this point in time) is from one of those detailed cut-scenes. That being said, these cut-scenes might look nice, but if the "actual" appearance of a character drawn with detail does not measure up to the subconscious picture of a character designed by the imagination, not only is there the feeling of disappointment, but also the player is robbed of the chance to imagine a preferable image for the character.
Personally, I think Red Moon did the best job in not allowing the above to happen in its
detailed
cut-scenes, AwW 2 following close behind. There was enough detail not to impose 1 person's view of a character onto the player, but enough to enhance the cut-scene. I know D-Sun has come a long way in his artistic ability since Red Moon, but that doesn't mean his artistic limitations then made my AwW experience any less enticing. Exactly the opposite actually. "...without the power of visuals, books allow readers to put together the story and elements in their mind." The power of visuals in the earlier Armed with Wings is that it had achieved that same affect just mentioned, but
with
visuals. That's really pretty amazing, and one of the core things that makes Armed with Wings unique
In the Game
I'm not a really big fan of the what can be descried as the "Cartoony" (as from above) art style direction of the later games. I will say though, Culmination, despite this cartoony style, is still my favorite AwW game, simply because of the impeccable "D" attack.
While I count the cartoony look of the characters as unwarranted detail, I'm not mainly opposed to it because of the "That's Not How I Pictured It!" thing(even though it contributes to that a little). I'll cover the whole cartoony character appearance thing in a later section of this post. What I'm talking about is how the cartoony detail of the later games sometimes went way, way too far in the detail of the character. For instance, take Gaaz.
For Gaaz, the cartoony detail is just way, way too much for Armed with Wings.
It literally looks like Gaaz was just pulled straight out of the cut-scene.
Alright, enough about Gaaz. Time to move on. I'll reference this later when making additional points.
Details in Cut-scenes
Now I'll
really
dive into the specifics of how details in cut-scenes should be used and when. Again, I think Red Moon does the best job of detail(and lack there of) in cut-scenes overall. So let's focus on a few moments of Red Moon's first cut-scene. There are a lot of reasons why this cut-scene is fantastic, but we're just going to focus solely on it's visuals for this section.
The cut-scene opens with the camera focused on a little bit more than just the bottom half of the Red Moon. The camera then slowly descends onto Vandheer's castle, and then zooms out to where Hawkin and Eivana are secretly meeting.
This first look at the characters is very important. The the lack of any detail and pitch black color of the characters strongly links Red Moon and the characters of Red Moon with the previous Armed with Wings games visually, as well as their appearances during the actual game-play. It also offers a "smooth" transition from the regular detail of the characters to
slightly
more detailed portrayals in the same cut-scene.
Next, the scene shifts to a more detailed close up of Eivana as she listens to Hawkin.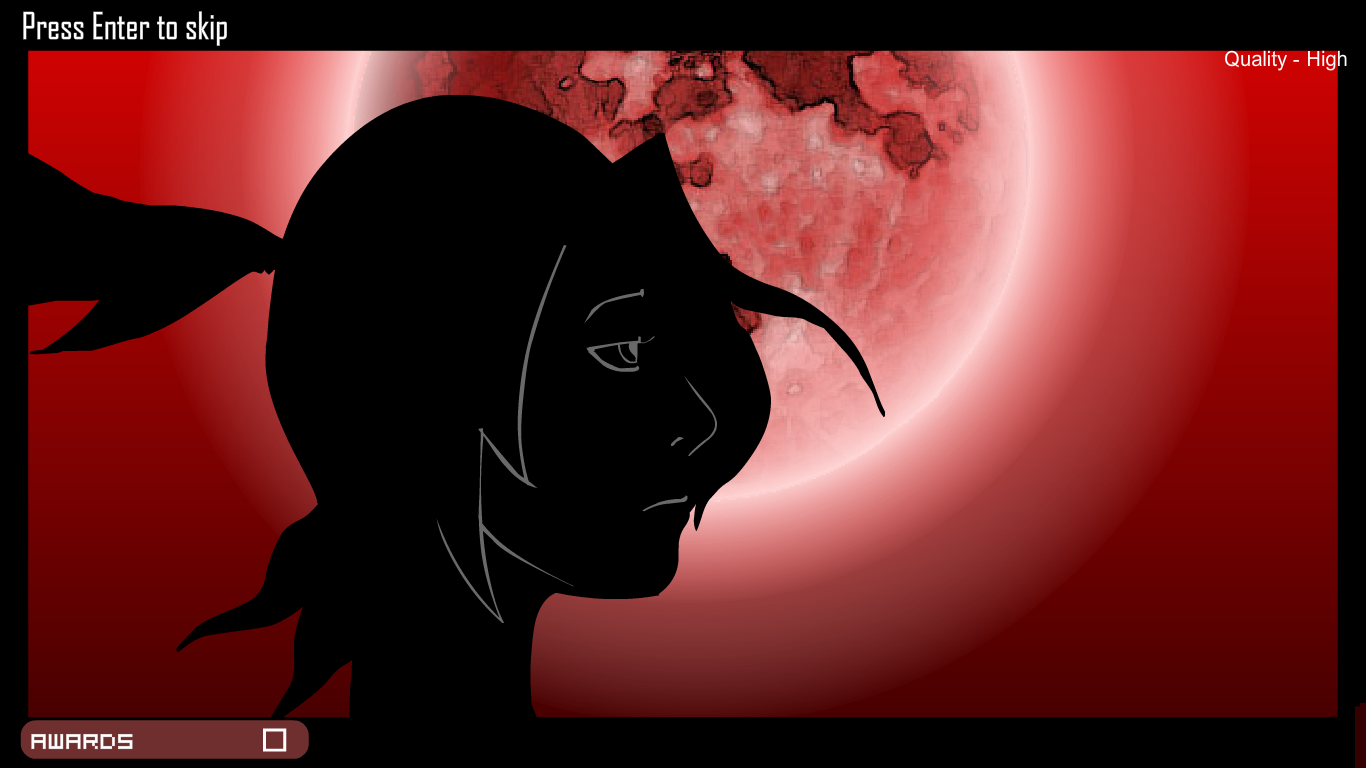 The amount of detail in Eivana's face in this shot is so simple, yet that whole "That's Not How I Pictured It!" disappointment feeling is no where to be found because the simplicity of the detail that is there compliments the already visually basic appearance of classic Armed with Wings but at the same time adds something to the image of the character's image we love and had already made subconsciously in our imaginations.
The scene transitions to Hawkin being alone in the shot for the first time, smoking a cigarette.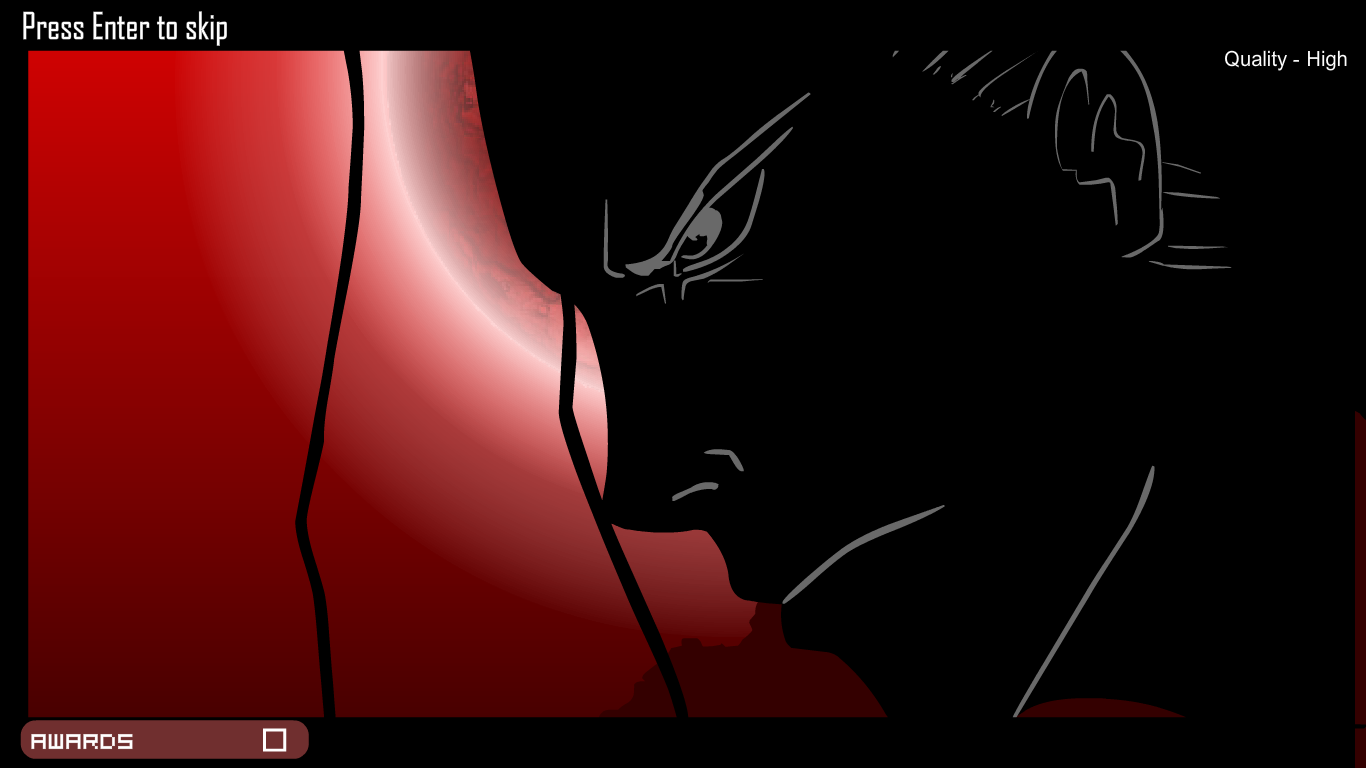 Another scene allowing a smooth transition from less detail to more, which also further allows the player to visually connect the regular and classic styled appearance of the character to the
slightly
more detailed drawing of the character a lot easier.
Also, the cut-scene alternates between more and less detail. This really adds to the creativity (and complexity) of the cut-scene. I can confidently say that as for me personally, this cut-scene would not be as perfect if it hadn't been for the alternating levels of detail.
Then there is some great character development and more simplistic detail.
The only thing I can really add here is that if any detail is added at all, it should remain
almost
exclusively on the faces of characters and only sparingly branch out to other places.
Finally, Eivana is coerced into accepting Hawkin's offer to finally overthrow the king.
Again, the alternating alternating level of detail really adds to the scene, but that is not what is most important here. This last look at the characters is almost just as important as the first look. This last shot of the cut-scene really visually connects the portrayal of the characters we just saw interacting throughout the cut-scene to the portrayal of the characters as they are in the actual game. This is very critical, because it makes the player feel more like he or she is
actually playing
as the character in the cut-scene, as opposed to
just watching a cut-scene
and
expecting the player to automatically feel like the two portrayals of the character are the same character
. Basically,
if the scene hadn't ended with the simple look of the characters, there would be a greater mental and visual disconnect between the characters in the cut-scene and the character(s) you are playing as and interacting with during the actual game-play.
Since no where in the cut-scene we see how the character actually "should" look like in any way, our imagination paints a picture of how we would want the character to look like, with the slight additional detail adding to the experience of the cut-scene, but not taking anything away from that preferred mental image that the player has formed him/herself and is more than content with.
These rules of detail more or less only apply to the first and last cut-scenes.
Now let's focus on the first in-game/middle cut-scene in Red Moon and how and why they should be treated differently. Just to make it clear, by
"in-game" cut-scene
, I mean a cut-scene that is inserted inbetween or "interrupts" any two parts of the actual playing of the game. In other words, any cut-scene that is not the first nor the final cut-scene I define as an
"in-game"
cut-scene.
Here, Hawkin and Eivana dispose of the loyal warrior with little effort: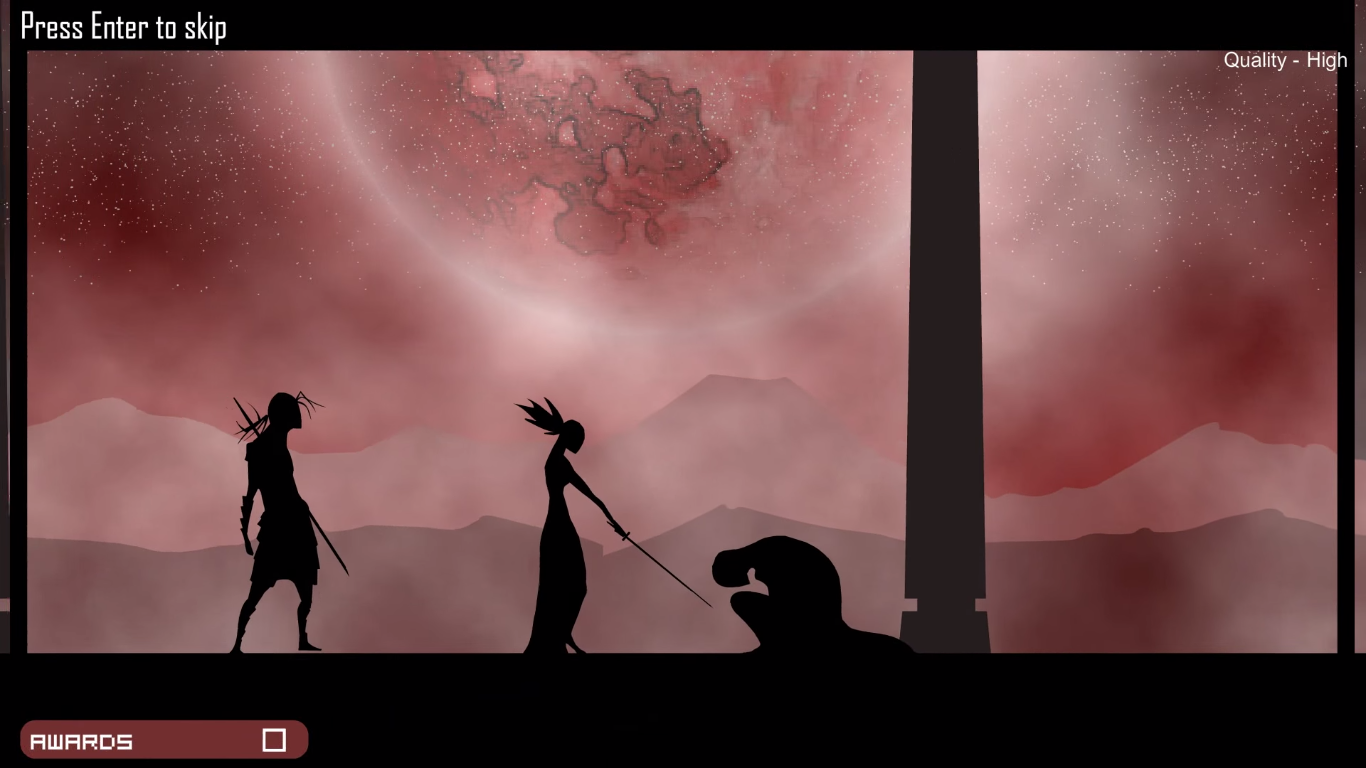 This cut-scene is the most clear cut example of what should differentiate opening and closing cut-scenes from in-game cut-scenes. The in-game cut-scenes
should have the character you've been playing as actually look like the character you've been playing as.
If the character in the cut-scene doesn't look like the character you've been playing as, there is a much greater mental disconnect between the character you are playing as and what your character did in the cut-scene. I mentioned this above when talking about that first cut-scene, but this principle is especially crucial here because you, the player, need to feel like the actual character you are controlling did something in the break of the actual game-play, or else it just feels like you're playing through the game just to watch a cut-scene, rather than actually being apart of the cut-scene and and actually having the character that
you are
apart of the story.
I didn't mention this before, and this ties into my previous point, but the first and final cut-scenes should be sort of like "reward" cut-scenes: the
more
visually satisfying cut-scenes. You don't really need to feel like you're directly apart of the story nearly as much because 1) The story had just begun in the opening cut-scene, where you have yet to play as you're character, and 2) The story is finishing in the final cut-scene, where you are no longer going to play as the character, as well as rewards the player for their work.
Now, let's not forget that the opening and final cut-scenes should still visually connect the character we've been playing as(or will be playing as) to the character in the cut-scene. It's just that that connection needs to be much stronger in the in-game cut-scenes, not only because it places the character you've been playing as into the plot better, but also because you are playing as the same character appearance wise before and after the in-game cut-scene. To bring Gaaz back up again, he is actually an amazing example of this. I really felt like I was fighting against the Gaaz that took away my mom and all of those other villagers, so beating him actually felt like I did something that contributed to the plot and not just apart of what I had to do to beat the game or unlock a new cut-scene. It's only a shame that this had been accomplished by an excess of detail rather than a lack thereof. I also want to point out that having fewer even slightly detailed cut-scenes make the opening and closing cut-scenes more unique and cool, as well as allows more time and effort to be devoted to a couple of fantastic cut-scenes, rather than that time and energy being spread among about a dozen only good or even mediocre cut-scenes.
I also want to say really quickly that I'm not asking for direct parallels between Red Moon and future AwW games, but just as a fundamental template. Even I think some of the in-game cut-scenes in AwW 2 are more creative and do just as good a job at keeping the characters while playing and in cut-scenes visually connected as Red Moon does. That's why I pointed out that AwW 2, I think, comes very close to Red Moon overall in terms of cut-scenes. I'm only pointing out that I don't want all of the in-game cut-scenes to be as "flat" as Red Moon's in-game cut-scenes, but I'm open to having a little detail and creativity within in-game cut-scenes for future AwW projects(like how in-game cut-scenes are in AwW 2),
but improved,

not

replaced
Detail on Characters
There are really only 3 simple reasons why detail on characters is something I also don't really think is a good idea for AwW, so I'll try to make this section as short as possible.
Detail Diminishes Imaginative Power
The "high-lighted" detail parts of the characters takes away from my imagination's ability to form the character(s) as I want them to be. It superimposes certain aspects of the appearance of that character substantially more than a pure black silhouette would.
(Cartoony) Detail Makes Characters Lighter and Less Realistic
When you compare the run animations of AwW and Vandheer Lorde in both of the first two AwW games to that of Leo or LW in AwW3 and Culmination, it seems (at least to me) that the running animations of AwW and Vandheer are much more weighted and realistic in their animation compared to that of Leo and LW in the later games. Leo and LW just seem to be lighter and less realistic(which is fine in itself, bu that weighted and realistic feel of the character's animation was something else that made AwW more unique from any other game in the first place. Take the boss fight at the end of AwW 1 against Vandheer for a really good example. You literally feel like you're running straight into the heart of all evil, ready to absolutely and totally destroy it with all the strength you could possibly posses. Sure, the camera zooming in continuously as you approach Vandheer helps with that(a lot), but it definitely would not feel that way if, say, it were Leo's character animation running towards Vandheer in that instance.
The cartooniness of the detail, while not all to blame for the lack of a feel of solid animation(s), is still partly to blame. I watched the new video of the stage 6 boss fight that was released recently [youtube]https://www.youtube.com/watch?v=wfZmoc70jx0[/youtube] and I couldn't help but notice that walk animation for the visually remastered menace was actually noticeably
cartoon-like
(something I was wasn't too thrilled about, but we can talk about that some other time). The only thing that kept the new walking animation from looking completely out of place when compared to the weighted and realistic sprite of Armed with Wings himself was the pitch-black detail-less appearance of the monster(although, the cartoon sword didn't help with that, but did not hinder it too much either. In fact, I'm kinda digging the sword).
Detail is Cartoony
Lastly, I think the cartoon style is a problem in itself for AwW. This is similiar to the AwW website post near the top of the page about detail, but I think that this person actually spoke the hard and brutal truth the best:
He really nailed it. Armed with Wings is slowly becoming just like any other game out there in the market. Almost absolutely nothing new or unique for AwW to add to the gaming scene what-so-ever, except maybe for that "D" attack your character may have. It just seems that each new thing coming out almost completely ignores what made Armed with Wings a fantastic and unique series to begin with. At least that's the direction I see AwW heading into(for more reasons than just detail and lack-there-of). But I'll guarantee you that there is almost
nothing
out there like the first Armed with Wings games. Now, moving on...
When and How Detail Should be Used
There are really only 3 places where detail should be used
1)
Lightly
and
sparingly
in cut-scenes
2) Backgrounds
3) Art outside of the game
I've already gone into the first point
very
thoroughly.
Backgrounds
This is really where detail can and should shine. Here is a screenshot from the AwW Rearmed from a youtube video D-Sun posted recently:
The beautifully designed and detailed background stands out remarkably well because it's being contrasted to the simplistic appearance of the character. The detailed background and the pitch-black design of the character compliment each other extremely well, much more than I could even imagine before seeing this for myself, not to mention the background itself isn't "cartoony" enough to make the appearance of the character look out of place and vice-versa. In my opinion, this is where D-Sun's detailed artistic style should shine the most: on everything that is
not
the characters or other people/monsters themselves.
Now let's take a look at a screenshot from AwW 3.
It looks pretty and all, but here is where we run into a problem. The detail on Leo looks exactly like the detail of the background and the foreground. In other words,
nothing is visually contrasted and the characters look just like they are another part of the environment.
There are a few reasons as to why this is not a good thing. 1) The beauty of the wonderfully drawn background is diminished because there is nothing to contrast it to 2) The character does not stand out as much.
The last thing I want to show is just a basic screenshot with a plain background from the first AwW game.
It's obvious to everyone that the amount of detail in the background compared to the last two pictures is severely lacking. However, the contrast between between the character and the background is still there, the degree of which is somewhere in between that of AwW 3 and AwW Rearmed. Still, I'd argue that this plain background draws almost, if not, just as much attention from the player because of the contrast between the character and the background as the attention drawn from the background of AwW 3 because of it's attention to detail. Both advantages of which are perfectly portrayed in the AwW Rearmed screenshot.
Outside Art
I'll be one of the first to defend D-Sun's exceptional artistic talent. I may disagree of how and when it's been used and how it should be used in AwW, but I still think most of his work is illustrated extremely well. However the majority of which that depicts characters should, imo, be kept outside of the game, or at the very least bonus content within it(as the case with Red Moon). Again, I don't think there is a single one of us who dislikes D-Sun's artwork, but also there is probably not a single one of us who dislikes the art style(s) of the first Armed with Wings games.
Compromise?
I want to address D-Sun personally: Dan, if you've been reading all of what's been posted above, then please also listen to me now. I think I've demonstrated that I am not the only one who thinks this way about AwW, but rather, there is actually a sizable portion of us who prefer the classic "style" of the first games. I also believe I've made some very valid points that I'm sure you're open to at least considering. Now, at the
VERY

Least
, please, please, if you are going to continue down the road of this detailed (and cartoony) style of AwW,
please
add some kind of toggle option that allow players to choose between the silhouette and detailed styles during gameplay. What would make this option spectacular, though, is if even the cut-scenes were also effected by this. Right now, I'm not even sure I would buy AwWR off of Steam, which is kind of frightening, because I'm a pretty big fan of the AwW series. However, if Rearmed(and even the BIG ONE) is promised to come with this feature, I will definitely pay for it. If the cut-scenes are also affected by this toggle, that would be the best thing since playing Armed with Wings for the first time. You could totally count on 110% that I would buy that game the instant I could.
Conclusion
I don't want to use up much more of the time you've spent reading through this, but before I briefly summarize all I've said so far, let me bring up a couple comments people left on the Armor games website for Red Moon:
I want to focus particularly on the second comment in the picture for a moment. It dawned on me a little while after seeing the more detailed cut-scene artwork in AwW 3(along with a few other things) that AwW as a whole would just be moving further and further away from its roots. Unfortunately, when it comes to this subject, I was right. I'll just say it plain and simple:
there is a problem when fans of your game

can't even tell

what one of your main characters look like.
A few comments on that picture:
So yes, even fans who don't see eye to eye with us about this issue may still think there is a point of too much detail for Armed with Wings. It even took me
months
to finally recognize that the thing in the top right corner of this picture was Vandheer:
Maybe that's on account of my own stupidity. I don't know. But for the longest time I thought it was some kind of armored flying dragon thing with a sword. Sure it's funny now and sounds sort of silly, but that is really what I made of it for awhile. That's not how Vandheer looks like; at least to me.
So on to the summary:
Armed with Wings is definitely
the
best flash game series I've ever had the privilege of playing, and I almost feel in debt to it and its creator. AwW is also definitely among the best games I've ever played, probably somewhere among my top 3. I'm just hoping that as more and more games and content are released, AwW will only climb the ladder to the very top in terms of game-play experience for me and not slowly and continuously slip down the ladder.
The first few games were some of the most unique and enjoyable games I've ever played, for more reasons than just the way detail was handled. However, that is one of the more, if not, the most complex element abount them that began the AwW fanbase we have today. The lack of detail was not just some limitation D-Sun had in making the first few games. It actually became a staple of what made AwW great in the first place The open-ended appearance of the character allowed our minds and imaginations to mold the characters into such a way as we would like to have them look. Just one of the reasons that welcomed AwW into a whole new class of its own in gaming.
Now it seems the distance from what separated AwW from all the rest of the other games that made it different and unique in the first place is slowly shortening until what was Armed with Wings dies within the many, many other mainstream games like it. That might be a little hard to understand, but I mean every word of it.
So please Dan, don't let AwW become just another game that's core fan-base originated from the games that preceded it. Keep AwW unique; keep AwW different; and keep AwW one of a kind.
Thank you to everyone who's made it though all of that

.